tinyCam Monitor FREE - IP camera viewer
10
tinyCam Monitor FREE – IP Camera Viewer
Do you have an IP camera, NVR or DVR? Do you want to see what your camera is seeing on your phone? If yes, then this IP camera viewer is the ideal app for you. tinyCam Monitor FREE – IP Camera Viewer is a useful app which allows you to remotely monitor the feed of your IP camera on your phone. It enables you to take charge of your surveillance camera and view its feed in real-time. Since many camera types are supported, you can easily set up your camera and see the footage it is capturing. You can even set up Android cameras too and view their feed on your phone screen. All of the surveillance cameras you have added can be viewed at once too.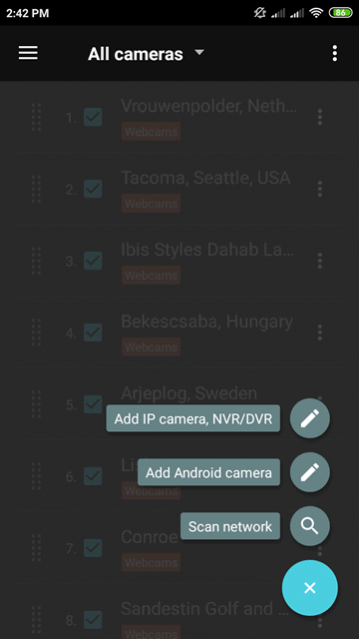 tinyCam Monitor FREE – IP Camera Viewer has an intuitive user interface which is backed up by a user-friendly design and layout. App navigation is very easy and you can switch from one camera to the other by a simple tap on its preview window. Any connected cameras can be viewed on the home screen of this IP camera viewer. Adding the cameras is a simple process too. You just have to navigate to the 'Manage Cameras' window and then click the '+' icon located at the bottom-right corner of the screen. This section can be accessed by clicking the button located on the home screen's top-left corner and then choosing the 'Manage Cameras' option from the drop-down menu that appears.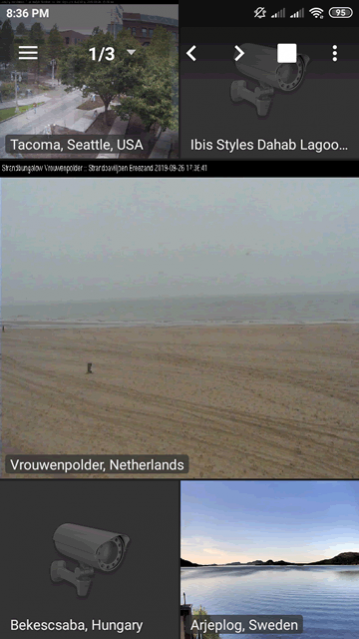 This IP camera viewer allows you to detect cameras in the vicinity by providing a LAN scanner to you. You can find this scanner on the same menu which is provided for adding IP cameras and NVR/DVR. This LAN scanner will find webcams located near you and let you view their feed with the tap of a button. You can add and view an unlimited number of cameras with this app. The cameras you add can be viewed collectively on the home screen in a number of different layouts. There is a Sequence mode available as well which allows you to switch cameras automatically. If any of your cameras have PTZ features enabled on it, you can use them to your advantage too.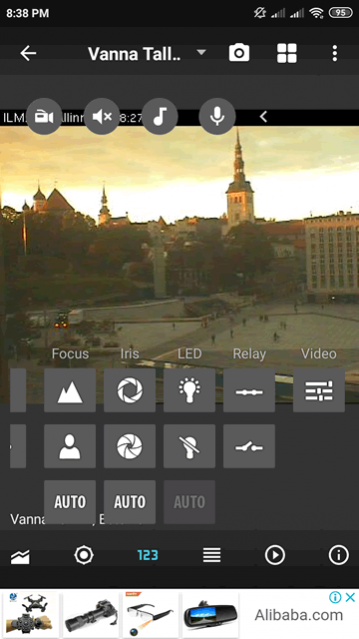 tinyCam Monitor FREE – IP Camera offers you to view the feed of a single IP camera simply by clicking on its preview screen. While viewing the camera feed, you can apply various features to enhance your viewing experience. For instance, you can focus on something that looks interesting or suspicious. Moreover, you can also listen in to the audio of the camera too provided it has an audio feature. You can also record the video feed that the camera is capturing. However, this feature is not available in the free version. You will have to purchase the pro version of this IP camera viewer to unlock this feature. Going pro is going to provide access to many other premium features as well which include face detection and time-lapse recording.
Features:
Intuitive user interface
User-friendly design and layout
Supports various types of IP cameras
Detect cameras using a LAN scanner
View the feed of an unlimited number of cameras
17 different camera layouts available
PTZ (Pan/Tilt/Zoom) control on offer
Switch cameras automatically with Sequence mode
Give tags to cameras to place them in a group
Unlock advanced features in the Pro version
Conclusion:
tinyCam Monitor FREE – IP Camera Viewer is an app which is designed for people who like keeping tabs on what is going in and around their home or office. It offers them the chance to view the live feed of any IP camera that they have installed at their premises on their phone. It is an IP camera viewer worth having on your phone if you own an IP camera.
---
Add a review
Tell us your experience with
tinyCam Monitor FREE - IP camera viewer
10
RELATED PROGRAMS
Our Recommendations
---
---
---
---